Best Manual Treadmills for Seniors in 2022
*This post may have affiliate links, which means I may receive commissions if you choose to purchase through links I provide (at no extra cost to you). As an Amazon Associate I earn from qualifying purchases. Please read my disclaimer for additional details..
A manual treadmill is an excellent way to enjoy gentle, low-impact cardio on your muscles. Regular treadmill walks also help to reduce arthritis pain, improve memory, and help with weight loss.
A treadmill allows you to build endurance and achieve overall fitness in the comfort of your home.
Buying a quality treadmill is the first step toward achieving these benefits. Our detailed buyers' guide has some of the best manual treadmills for seniors in 2022. We also give tips on what to look for when buying a treadmill.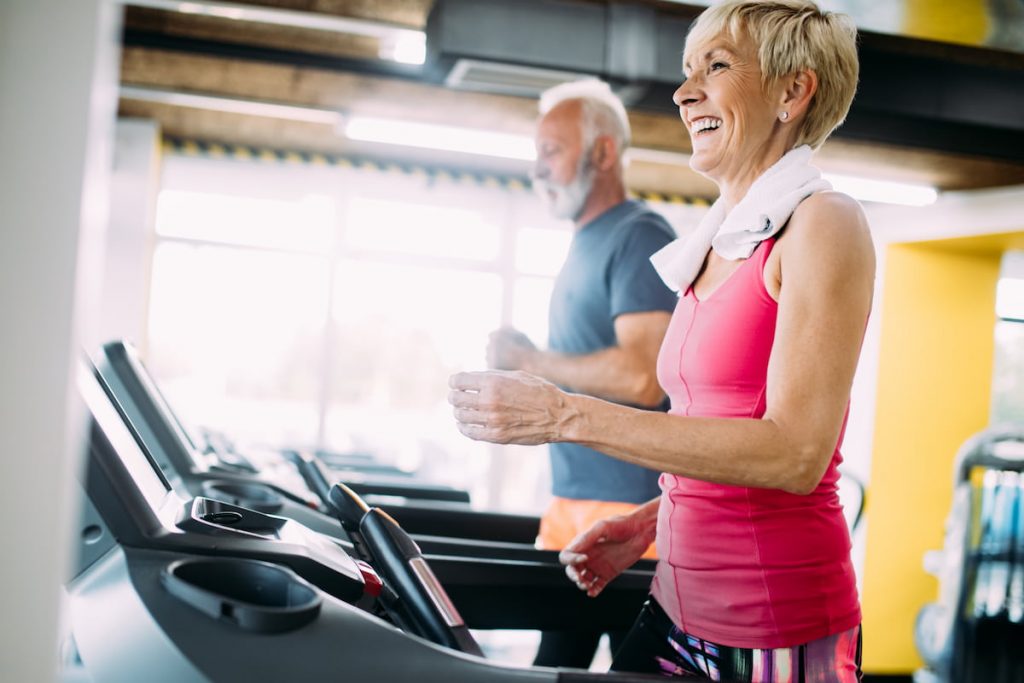 Top 5 Best Manual Treadmills for Seniors
Manual treadmills are an excellent alternative if you're looking for an affordable unit with compact frames. Note that manual treadmills don't need electricity and are powered by your strength and speed.
Here are some of the best manual treadmills you should consider in 2022.
1. Fitness Reality TR 1000
Featuring 230 pounds of user weight capacity, two-position incline levels, and a steel frame with a powder-coated finish, the Fitness Reality TR 1000 is one of the best manual treadmills for seniors.
The easy-to-set-up, affordable treadmill has a unique design that makes exercising a breeze. You can opt to run or walk as the machine has two different incline settings.
Moreover, you can increase the inclination level from 6-10 degrees to add resistance to your workout and increase muscle mass.
The manufacturer also pays attention to safety and has the treadmill fitted with extra-long handles that you can use to regain balance if you're about to fall.
This treadmill is lightweight, weighing only 49 pounds, and can be folded to fit in a compact space. That makes it ideal for anyone with minimal space.
However, tall people may find that the handles are a bit low, forcing you to hunch down and compromise your position.
Overall, the Fitness Reality TR 1000 is an excellent treadmill for seniors looking for a reliable and affordable machine that folds up easily.
Pros
Reliable and budget-friendly option
Has long rails for added balance and safety
Easy to assemble and move around
Folds easily for storage
Allows you to adjust the inclination
Has an LCD monitor that shows calories burned, the time elapsed, and the distance walked
Cons
The belt isn't wide enough for running
It may not work for seniors with over 230 pounds
The treadmill may not be ideal for tall people as the handles are low
2. Exerpeutic 100XL Manual Treadmill
Designed for up to 325 pounds of user weight, the Exerpeutic 100XL Manual Treadmill is a fantastic option for heavyweight seniors.
You'll enjoy the quiet and smooth experience provided by the six-inch flywheels.
Another outstanding aspect is the long and wide surface that provides ample room for walking and running, a feature that's not common in most manual treadmills.
If you struggle with mobility issues, the Exerpeutic Manual Treadmill is an excellent choice as it's fitted with a wider and longer belt.
The extra-long handles are two times the length of other handles. They provide enough support and safety, preventing any risk of falling.
Although the Exerpeutic treadmill is big, it's easy to fold and store away.
Additionally, three settings on the inclination level allow you to customize your workout. You can incline the machine at 8, 10, or 15 degrees.
The Pacer Control also adjusts the tension to eight levels, allowing you to increase the difficulty level and enjoy hands-free walking.
With the LCD monitor, you can check your health metrics: calories burned, heartbeat rate, distance traveled, and time elapsed. The treadmill also has a place to store a remote control or phone while working out.
On the downside, the Exerpeutic treadmill may not be ideal for someone over six feet. It's also expensive and doesn't have a bottle holder.
Pros
Has adjustable tension to increase the difficulty level
Comes with three inclination levels
The six-inch twin flywheels provide smooth movement
Ideal for overweight people
Fitted with a wide belt for walking and running
Cons
Not ideal for seniors taller than six feet
Expensive
3. Kotia Manual Treadmill
This Kotia treadmill is another easy-to-assemble machine for anyone looking for a minimalist design. Its compact, foldable frame is also a bonus feature if you have less space at home.
The sturdy steel frame can support 220 pounds, and the soft handlebars ensure you feel comfortable when working out.
Offering a comfortable 10-degree fixed angle, this manual treadmill provides the required incline while still adding resistance to your workout. You can also conveniently check your distance, speed, time, and burned calories with the 5-inch LCD screen.
Perhaps the best feature of this treadmill is the Quick-Stop Mat. The non-slip surface of the belt provides excellent traction and allows you to stop the belt immediately, preventing injury. If the belt becomes loose, you can easily adjust it by hand by rotating the tension knobs.
Twin 6-inch flywheels allow you to walk, jog, and even run on this treadmill. However, running on the narrow 13-inch wide belt may be a challenge.
Pros
Has a compact, minimalistic design
Affordable
Simple to assemble
Fitted with twin 6-inch flywheels for smooth movement
Cons
Doesn't have an option to adjust the inclination
Not suitable for tall people
Not meant for people over 220 pounds
4. ProGear 190 Manual Treadmill
[amalinkspro type="image-link" asin="B00LFTFL1I" new-window="true" apilink="https://www.amazon.com/dp/B00LFTFL1I?tag=lairicllc-20&linkCode=osi&th=1&psc=1″ img-size="500,500″ addtocart="false" nofollow="true" alt="ProGear 190 Manual Treadmill with 2 Level Incline and Twin Flywheels" alignment="aligncenter"]https://m.media-amazon.com/images/I/417C-LU4PvL._SL500_.jpg[/amalinkspro]
The ProGear 190 Manual Treadmill is designed for any senior up to 230 pounds. Thanks to the wide handrails and sturdy steel frame, you can comfortably exercise on this machine.
Oversized belt rollers and twin cast iron flywheels provide smooth yet safe movement as you work out. Furthermore, you can adjust your difficulty level by changing the inclination degree to six or ten.
Balance can be a struggle as you age. The ProGear treadmill has long foam handles that feel secure in your hands and provide something to hold on to as you walk or run on the treadmill.
The LCD monitor allows you to check your workout progress.
Although the manual treadmill weighs only 49 pounds, it requires setting up. You might need help assembling the treadmill. Nonetheless, the treadmill has transportation wheels that make it easy to move from one place to another.
Pros
Has oversized belt rollers for a smooth experience
Allows you to change the inclination degree
Affordable
Has foam-covered bars for added stability and balance
Cons
Not ideal for people over 230 pounds
Not designed for fast running
5. Sunny Health & Fitness Manual Treadmill
[amalinkspro type="image-link" asin="B00QIM5CMK" new-window="true" apilink="https://www.amazon.com/dp/B00QIM5CMK?tag=lairicllc-20&linkCode=osi&th=1&psc=1″ img-size="500,500″ addtocart="false" nofollow="true" alt="Sunny Health & Fitness SF-T1407M Foldable Manual Walking Treadmill, Gray" alignment="aligncenter"]https://m.media-amazon.com/images/I/31wHwdAobiL._SL500_.jpg[/amalinkspro]
Exercising as a senior can be challenging, but with the Sunny Health & Fitness Manual Treadmill, you can take regular walks to improve your physical and mental health.
Apart from ranking as one of the best walking treadmills for seniors, the Sunny Health & Fitness treadmill has a compact frame and a low deck for easy mounting.
If you have balance problems or bad knees, the Sunny Manual treadmill will be excellent as it features inbuilt shock absorption for joint protection. The inbuilt shock absorption reduces the impact on painful and weak joints.
Its multi-grip padded handrails on the frame's sides, middle, and top provide ample support and allow you to balance easily. The floor stabilizers and wheels give this treadmill a sturdy base.
Another fantastic feature is the emergency safety button that stops the treadmill automatically once the safety clip is removed.
Moreover, you don't have to struggle to set up the treadmill as it comes with straightforward user control. The monitor provides real-time calorie tracking and personalized workout goals.
On the downside, the Sunny Health & Fitness Manual Treadmill doesn't fold up. It also doesn't have an incline or a heart rate monitor.
Pros
Compact frames for easy storage
Built to withstand light jogging or walking
Has a non-slip running surface
Fitted with an LCD monitor to track fitness progress and calories
Has long handles that run the length of the deck
Features a quiet 2.5 HP motor
It has an emergency stop button
Cons
Doesn't have an incline
It doesn't fold
Lacks a heart rate monitor
Comprehensive Buyers Guide: Choosing a Manual Treadmill for Seniors
Manual treadmills have varying features; you need to find one based on your fitness goals. These treadmills are a safer option for seniors and are inexpensive.
Most manual treadmills have compact frames, which makes them portable.
Below is our guide on what to consider when buying a manual treadmill.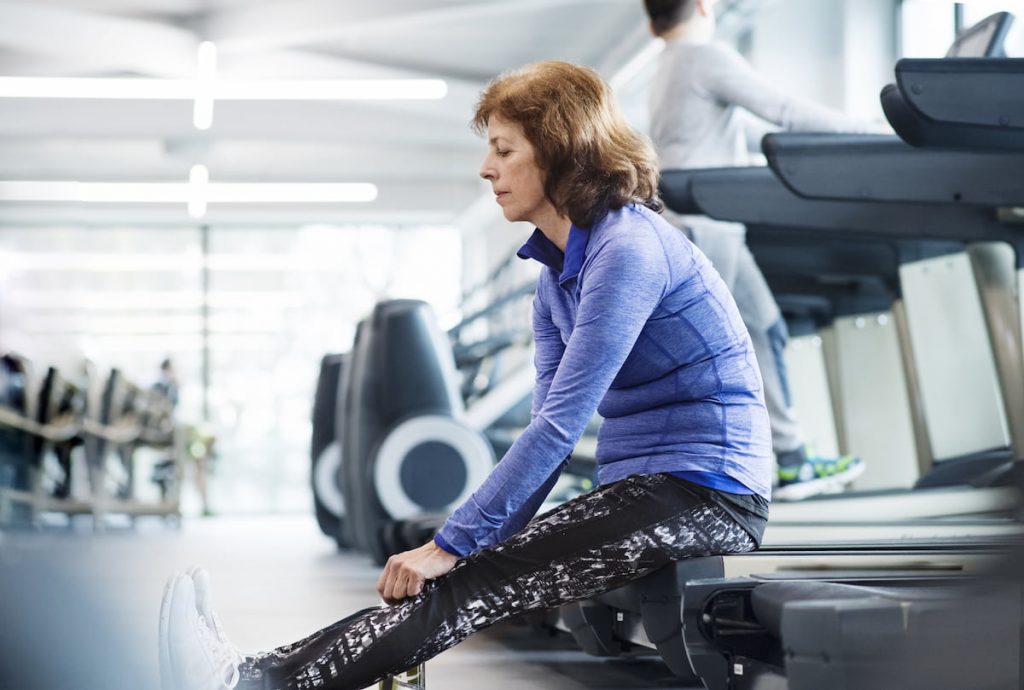 The Functionality of the Treadmill
Various manual treadmills are ideal for seniors. Some allow for limited running and walking, while others are for running and walking.
Ensure that you get a treadmill that fits your personal preferences.
Determine the Ease of Use
Unlike electrical treadmills that rely on electricity, manual treadmills give you more control. You need to push the belt with your feet to move it. Furthermore, you must manually change the incline set to push your body.
Get a treadmill that is simple to use. The best place to get this information is from customer reviews. Reviews can tell you whether it's easier to alter the incline setting or if the belt is too stiff to move.
Don't Ignore the Safety Features
Getting a treadmill with the best safety features is something you cannot overlook. Some of the features to look out for include:
You might suffer from imbalance and can fall accidentally. Find a manual treadmill with extended handrails that can provide support when walking on the mill.
Additionally, the handrails should be anti-slip and sturdy to help you maintain balance while exercising.
You might suffer from recurrent joint pain and weakness. Running or walking on the treadmill may exert more pressure on your joints, leading to more pain.
Experts recommend getting a treadmill with cushioning layers to support the joints.
Note that the amount of cushioning might depend on your budget. For example, middle-priced treadmills may have joint replacement cushioning, while high-end treadmills feature shock-resistant padding.
A safety emergy button is a must-have as you can press the button to stop the belt when you feel like falling.
Most treadmills have the button fitted with a safety clip. If you fall by accident, the button automatically stops the machine if the clip is attached to your clothes.
A small deck may be uncomfortable if you are heavy and tall. A minimum of 48 inches in length and 16 inches in width works for most seniors.
However, if you need something more comfortable and ample space, a treadmill 50 inches in length and 18 inches wide will work best.
Other Features
While these features are not essential, they are nice to have on a treadmill. Some of these features include:
A mobile/tablet holder
A bottle holder
LED/LCD screen
Inbuilt speakers and Bluetooth connectivity
Heart rate monitor
Have a Budget in Mind
Quality treadmills are not cheap as they are made from durable materials and may feature different functionalities.
You should consider adjusting your budget if you're looking for something durable that will last a long time. However, you should consider getting a treadmill in the middle price range to avoid overspending or getting a machine that isn't durable.
Consider the Warranty Period
A treadmill manufacturer who provides a warranty for every purchase indicates that they believe in the quality of their product.
It's best to get a treadmill with a warranty as this gives you the peace of mind that the unit will get repaired or replaced.
Final Thoughts
While age might bring challenges like limited mobility, loss of balance, painful joints, and more, you shouldn't allow these limitations to hinder your fitness journey. A manual treadmill is an excellent machine for light walking or running.
The best manual treadmill for seniors should have safety features, simple-to-read displays, an incline to shift pressure from your knees, and quality cushioning to ensure your joints are not strained.
Our list above has some of the best treadmills for seniors. Hopefully, you can find one that fits your current workout needs and budget.
Resources